MiHCM wins Microsoft ISV Partner of the Year Award at Microsoft Inspire Southeast Asia New Markets Partner Awards 2020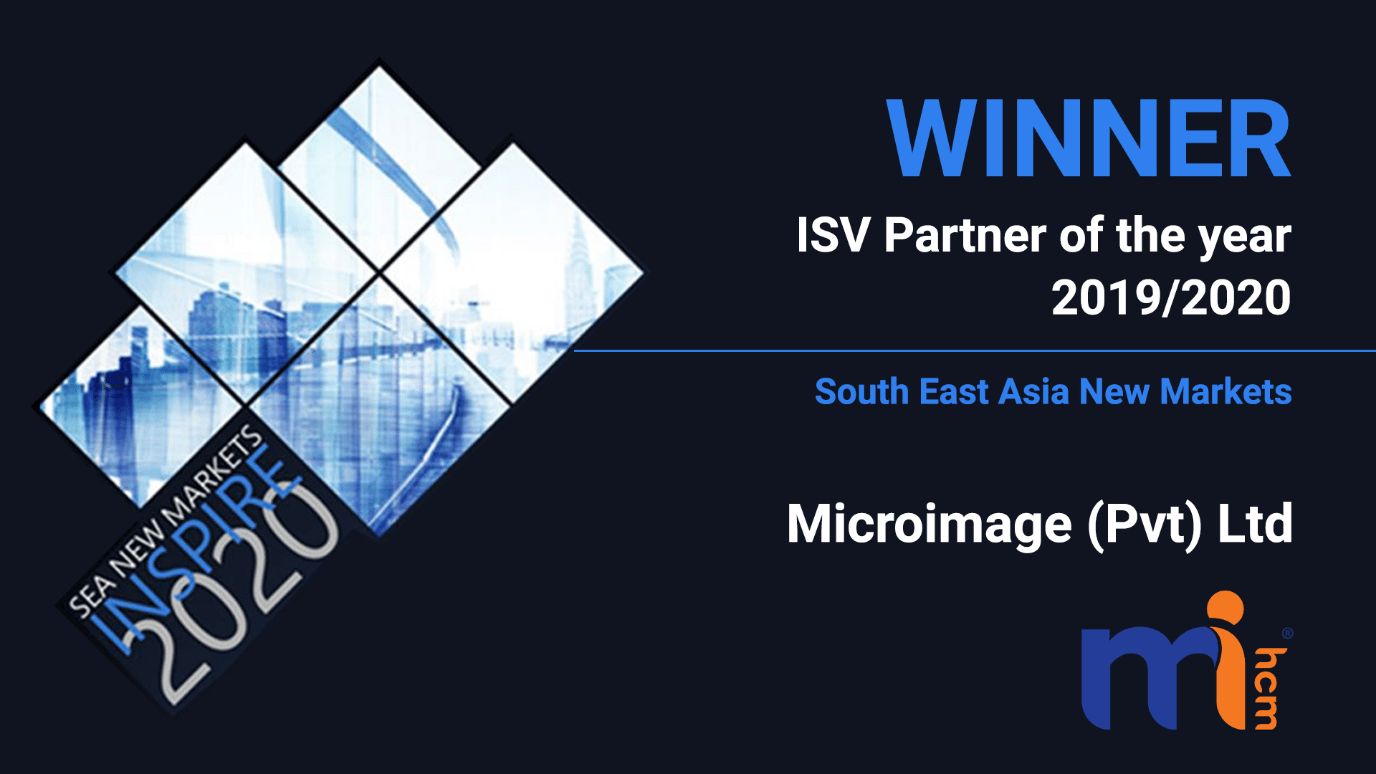 COLOMBO, Sri Lanka — October 20, 2020 — MiHCM, a leading HR technology provider, today announced that it has won the 2020 Microsoft ISV Partner of the Year Award for the South East Asia New Markets. The company was acknowledged at Microsoft's annual regional partner conference, Microsoft Inspire South East New Markets 2020. The Microsoft South East Asia New Markets consist of 9 economies namely Sri Lanka, Bangladesh, Maldives, Nepal, Bhutan, Myanmar, Cambodia, Laos & Brunei Darussalam.
The ISV Partner of The Year Award recognises MiHCM's ability to successfully leverage multiple Microsoft solutions, such as Microsoft Azure, to deploy solutions such as MiHCM Cloud. An ISV or independent software vendor is a tech industry term used by Microsoft and other companies to describe individuals and organisations who develop, market and sell software that runs on third-party software and hardware platforms.
"This award reflects the close collaboration and community growth that MiHCM and Microsoft have achieved over the past year. MiHCM Cloud and Microsoft Azure play a critical role in helping customers respond, recover, and thrive in the new normal. I like to thank all our customers & partners across the region where we share this recognition with all of them. We look forward to further invest in the region delivering our broad range of innovative digital HR products to help clients move from a legacy system to a future ready digital HCM platform," said Harsha Purasinghe, Founder & CEO at MiHCM.
MiHCM was recognised as the Microsoft ISV Partner for the second consecutive year for producing and implementing a customer solution on Microsoft Technology to improve business results, increase customer value, and help businesses drive their business forward.
MiHCM has 20 years of domain experience in developing HR software solutions for enterprise clients in the region and now boasts more than 300 companies across 15 international markets. The platform is designed to run at scale on Azure. Clients span large banking and financial institutions, telecommunications, manufacturing, conglomerates, retail, start-ups and technology companies.
"We are thrilled and honoured to be recognised as the 2020 Microsoft ISV Partner of the Year. We are especially grateful to our customers and partners for challenging us to adopt and deploy the very latest cloud technologies. We've already achieved a lot together with Microsoft and we're excited to see our work continue to new heights," said Himashie Perera, Head of Partnerships at MiHCM.
"We've encountered great misfortune this year, but nothing could be more inspirational than seeing our partners like MiHCM help organisations of all types to connect, operate, and carry on," said Sook Hoon Cheah, General Manager, Southeast Asia New Markets, Microsoft APAC.
The MiHCM team is committed to delivering the highest standards of customer service and this award is testimony to the fact that they are making a real difference to customers' business.
MiHCM's deep partnership with Microsoft allows companies to enhance their operational HR processes though automation and business intelligence. MiHCM will continue to build high-available and massively scalable HR applications on Microsoft Azure.
—END—
About MiHCM 
MiHCM Digital Human Capital Management facilitates organisations to transform legacy HR systems and processes to a true digital environment. MiHCM is a spin-off digital HR venture by Microimage; a leading technology provider in business interest in number of domains. MiHCM is a leading global human capital management software solution designed to run at scale on Microsoft Azure Cloud platform. In South Asia and South East Asia, MiHCM holds a strong presence and has implemented its digital HCM solution for a range of clients from large enterprises with regional operations to SMEs.
MiHCM is a global Gold certified, IP co-sell ready managed ISV partner of Microsoft Corporation and its HCM Cloud solution is available on Microsoft's global flagship product store AppSource. MiHCM was awarded the 2019 Microsoft Independent Software Vendor (ISV) Partner of the year award as a testimony for the engineering and technical delivery excellence demonstrated. MiHCM is powered by secure, scalable and stable Microsoft Azure cloud and is currently deployed via the Azure Data Centres in APAC. MiHCM regional HQ is in Kuala Lumpur, Malaysia and the nerve centre of the firm's Research and Development activity is in Colombo, Sri Lanka.