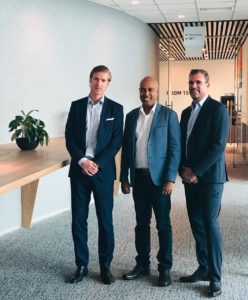 Torgrim Takle, CEO, Crayon Group, Harsha Purasinghe, CEO/Founder, MiHCM, Florent Bellahsene, Vice President, Crayon APAC
Digital transformation is estimated to bring the Asia Pacific region US$1 trillion in GDP by 2021, with business benefiting from greater customer advocacy, increased productivity and higher profit margins with revenue from new products and services.
MiHCM aims to deliver its digital cloud HR platform to customers who are looking to transform their HR operations from legacy HR systems & manual-based processes to an enterprise-grade, intuitive HR experience.
"The partnership between Crayon and MiHCM has been critical for MiHCM to stay ahead of the curve and meet customer needs. It has allowed us to improve our value proposition and innovate for the future. It also allows us to serve our customers more effectively, transforming their HR operations and helping them create the workplaces of the future," says Harsha Purasinghe, CEO/Founder, MiHCM.
With Crayon Intelligent Cloud suite platforms like Cloud-iQ, MiHCM benefits from the deep visibility provided into Crayon's business-critical IT assets, which allows better decision-making in terms of accelerating ROI. In turn, MiHCM's strategic partnership with Microsoft provides Crayon with access to Microsoft's platforms like Azure and Dynamics 365. It helps unlock greater productivity and create more innovative services by building better apps.
"Software and cloud economics play a huge role in helping our partners create their own value in digital transformation. Crayon provides the platform for the partner ecosystem to drive growth across Asia Pacific and beyond," says Florent Bellahsene, Vice President, Crayon APAC.
Crayon will continue to explore new capabilities in the field of Artificial Intelligence by setting up an AI Centre of Excellence in Singapore. "Our joint vision is to move legacy HR to digital HR to even more companies," he added.
MiHCM is an end-to-end digital HR solution, using advanced analytics and natural language query functionality to provide talent insights for timely and accurate decision-making. Native mobile apps for iOS / Android help empower a mobile-first workforce and employee engagement is enhanced with collaboration, social and feedback tools embedded in the solution.
Country specific legislative and language localisations are supported with seamless integration capabilities to other third party systems via secure APIs. Users are also able to stay current via "Mia", a virtual HR assistant, powered by BoT technology for 24×7 employee HR assistance.
HCM Cloud is currently deployed in the UK, Asia and Australia Azure Data Centers.
About Crayon:
Crayon Group Holding ASA is a leading IT advisory firm in software and digital transformation services. With unique IP tools and skilled employees, Crayon helps optimize its clients' ROI from complex software technology investments. Crayon has long experience within volume software licensing optimization, digital engineering and predictive analytics, assisting clients through all phases of the process of a digital transformation. Headquartered in Oslo, Norway, the company has approximately 1,300 employees in 43 offices worldwide.
About MiHCM
Founded in the mid-1990's as a start-up, today MIHCM has become a global human capital management software solutions provider with operations spanning various geographies. In Asia Pacific, where business leaders are taking a very proactive approach to people management, MiHCM holds a strong presence and has implemented its digital HCM Cloud solution for a range of clients from enterprises with regional operations to SMEs. MiHCM is a pure play SaaS digital HR venture backed by Microimage with its decades of HR software development and deployment experience.
MiHCM is a global IP co-sell ready ISV partner of Microsoft Corporation and its HCM Cloud solution was recently accepted onto Microsoft's global flagship product store AppSource. In early 2018, Microsoft Corporation selected HCM Cloud as one of the showcase solutions for the industry zone at its APAC Technology Centre in Singapore. MIHCM is currently deployed across number of azure global data centers.